MixR CEO Talks Trust & The Power Of Community on DisrupTV
2
We're excited to share that MixR CEO & Co-Founder, Cecile Moulard, was recently invited to guest star on DisrupTV: a weekly web series by Constellation Research, hosted by R "Ray" Wang and Vala Afshar. The show focuses on leadership storytelling and highlights changing behaviors and business processes.
The stream was viewed by more than six thousand people! :) But, in case you missed it, click here to view the entire episode. We've also included a couple key takeaways below.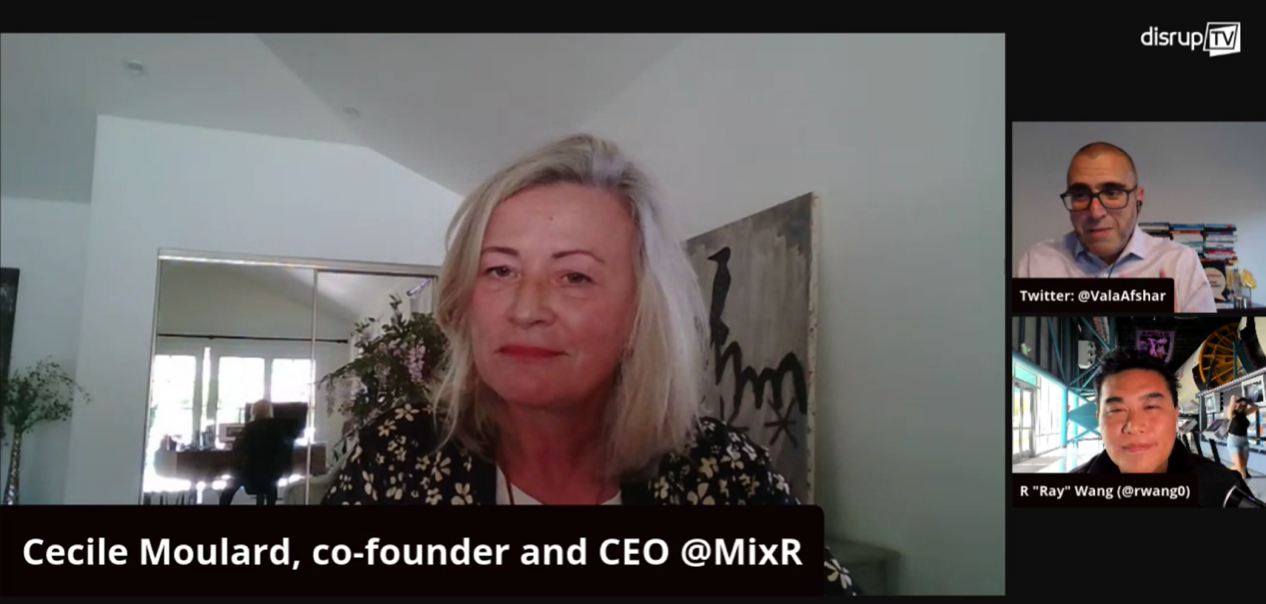 Trust changes everything 
In today's changing world, we're seeing record levels of burnout, stress and turnover. MixR was founded to address these issues through the power of trust & belonging. The best way to scale trust & belonging at work is to empower your employees to come together around a shared-interest and create authentic community. Unlike a traditional work team, a community is a group of people who choose to come together to learn, grow, seek support and build relationships. Within these communities, trust & belonging blossom. Countless research has shown that high-trust work environments reap a number of benefits including: increased engagement, productivity and innovation, as well as boosted morale and well-being. As Stephen Covey puts it, "Trust is the one thing that changes everything." 
Conquering the 'new normal'
There is a renewed sense of urgency for reclaiming human connection at work. Employee expectations are changing. We know that 40% of hybrid employees say they will leave their jobs if forced to go back to the office (Gartner). Organizations that will be successful in this new normal are those that design hybrid workplaces that prioritize both business performance and well-being. Now more than ever, we need human-centric design to help recreate the serendipity that came with being physically together in the office. Unlike the productivity tools that keep us on task, MixR is designed to match & connect employees around their interests – bypassing traditional teams and silos. When employees are empowered to form meaningful relationships, businesses and their people will experience better outcomes, at work and beyond.
Thank you again to the DisrupTV hosts, Vala and Ray, and producer, Elle, for making this happen! If you're interested in diving deeper, we highly encourage you to check out the full interview. 
In the meantime, if you're an organization looking to prepare for the future of work, we'd love to hear from you. Don't hesitate to reach out or book a demo.