How to Promote Diversity & Inclusion in the Workplace
4
In light of major societal and political events over the last few years, leading organizations are taking meaningful steps to promote diversity & inclusion (D&I) at work. With the help of HR departments, they're hiring diverse workforces that include people from all walks of life. This in itself is a great step in the right direction, but here comes the challenging part: creating and maintaining a culture where everyone feels included. 
We've compiled a few steps organizations can take to strengthen their D&I strategy and build a culture where everyone feels accepted and heard – no matter their background or how they identify themself.
Encourage Feedback & Open Dialogue 
Simply outlining a D&I strategy and program is not enough. Many D&I initiatives stall in the long run because organizations fail to engage employees and incorporate their feedback. It is crucial to create an environment where employees and managers feel comfortable enough to speak up and have brave conversations. Today, many subjects are often deemed "too difficult" or "too taboo" to discuss at work and people become reluctant to share openly for fear of saying the wrong thing. However, tackling these subjects is an important part of shifting behaviors and creating a truly inclusive workplace. Employee feedback, concerns, and examples of what they are facing should be acknowledged and heard. Some great ways to get the ball rolling are to gauge employee sentiment through anonymous employee feedback collection services – think Culture Amp or Qualtrics – or by creating a diversity panel charged with mitigating unconscious bias throughout the workplace. Creating open communication channels should be a priority for any organization looking to make true progress as it relates to D&I.
Celebrate Diverse Voices
There have been countless studies on the benefits of diverse teams – they're more innovative, make better decisions and understand customers better (Why Diverse Teams Are Smarter HBR). But, the real glue that keeps diverse teams thriving is inclusivity. One of the best ways to celebrate your employees' diverse backgrounds and perspectives is to invite them to share those at work. Workplace communities, such as Employee Resource Groups, Affinity Groups and Social Clubs are the perfect space for people to connect, and feel represented and valued within an organization. These groups act as safe spaces for people to be heard and accepted – irrespective of their differences. Especially when employee-led, these groups also serve to create a sense of belonging, boost retention and advance diverse hires. Community-building platforms like MixR can facilitate the creation and management of such interest-based groups, all the while giving organizations the ability to measure the growth and impact of these communities. Embracing the diversity of your teams can become a key competitive advantage and result in higher levels of innovation and creativity across the board.  
Don't Overlook Belonging & Trust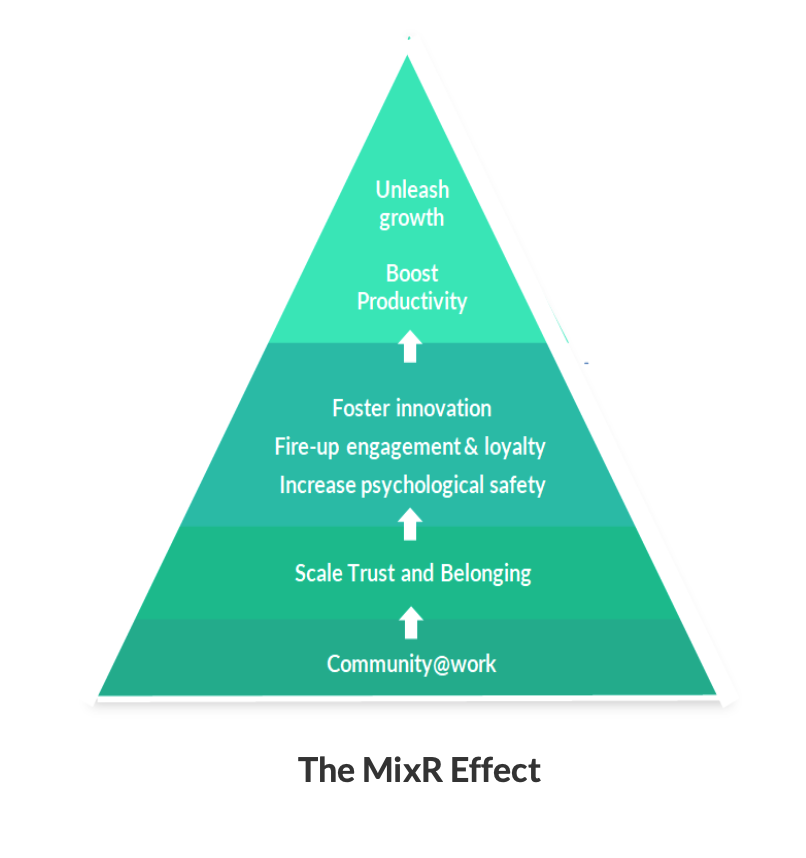 Building an inclusive and equitable workplace means hiring the right people, and making sure to not overlook internal factors such as sense of belonging, trust and psychological safety along the way. For a D&I strategy to truly blossom and create real change throughout an organization, it needs to be accompanied by belonging & trust (B&T). B&T means feeling secure, included and accepted in any environment. To incorporate this into a D&I strategy, organizations must provide opportunities for their people to connect and form meaningful relationships. These interactions should not be limited to specific work functions and teams, and rather focus on shared qualities and interests. It's all about building a culture where each employee feels empowered to be their true, authentic selves at work. At MixR, we truly believe that when D&I is coupled with B&T, organizations can unleash growth, foster innovation and boost well-being. 
All in all, promoting D&I at work is good for your people, and for your business. If you're interested in diving deeper on this topic, we recently published in-depth conversations with industry leaders in the space. Check them out below: 
In the meantime, feel free to reach out to learn more about MixR.