The Tao of Employee Engagement (Hint: It's Belonging)
0
SurveyMonkey has introduced a simple and lovely tool for measuring employee engagement. The tool is based on their "whole person" theory that measures multiple core factors. The factors look like this: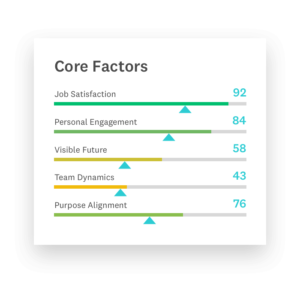 We love this point of view. But we feel that it's missing one factor: Belonging.
You could argue that "belonging" fits under "Team Dynamics," but we think it's a bit more complex than that. You can have a perfectly cordial and productive relationship with your teammates, and still feel lonely and isolated due to differences in interests, culture and life stages. It's imperative to find your posse.
MixR helps employees do exactly that. MixR empowers them to make their own communities, rewards them for in-person interaction and ongoing engagement, and generally creates that feeling of belonging that is so important in any environment. We think it's so necessary, we created our own metric to measure it. It's called the "CQ™" or "Community Quotient™." The CQ includes the "core factors" of personal engagement and purpose alignment, but also measures the ineffable goodness of belonging.
With the costs of employee disengagement at 34% of an employee's salary per year*, we absolutely applaud SurveyMonkey for creating their Engage tool. And to get that employee engagement started, we hope everyone will come check out MixR. If you're interested, we'll even give you a Free Workshop on why community is important, and how you can build it in your organization.